Winner-2308B Intelligent Wet and Dry Laser Particle Size Analyzer for mineral powders particle size test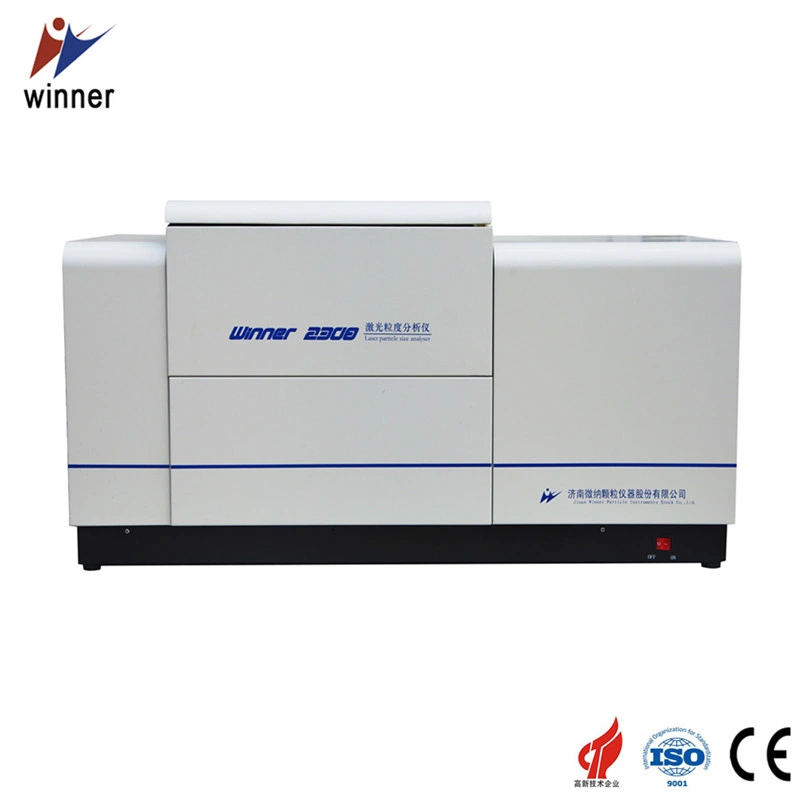 Overview:
Winner2308B
intelligent
full automatic wet
&dry
laser particle size analyzer
adopt laser diffraction theory(
Mie and
Fraunhofer diffraction),
measure size is from 0.01μm to 1200μm
(dry 0.1
μm
-1200
μm
)
, Which offer reliable and repeatable particle size analysis for a diverse range of applications.It use dual-beam& multi
ple
spectral detection systems and side light scatter test technology to significantly improve precision and performance of test, It's the
prior
choice for industrial production quality control departments and research institutions
.
Main Specifications:
Model Name

Winner

2308B

Standard

ISO 13320-1:2009,GB/T19007-2016,Q/0100JWN001-2013




Compliance with 21 CFR Part 11

Principle

Laser diffraction principle

Analysis

Mie and Fraunhofer scattering

Detector Arrangement

Log-spaced array,

test angle from

0.015

degree to 1

4

5 degree

Measuring R

ange

Wet:0.01

μm

-1200

μm

Dry: 0.1

μm

-1200

μm

Channels

Number

Wet:127

pcs

Dry:100

pcs

Accuracy

error

Wet

<

1

%

Dry<1%

(CRM D50)

Repeatability

error

Wet

<

1

%

Dry<1%

(CRM D50)

Light source

Dual lens,

He-Ne

laser P

>

3.0 MW (λ= 632.8nm)




Auxiliary

green

semiconductor laser (λ= 532

.8

nm)

P>2.0MW

,

Laser Safety

Class 1

Wet dispersion

Ultrasonic

Frequency:40KHz Power:

60

W, Time: ≥1S

Stir

Revolutions Speed: 0-3000RPM (Adjustable)

Circulate

Rated Flow:

30

L/min Rated Power:

70

W

Sample

tank

Volume:

100

0mL

Micro-




Sample

cuvette

Volume: 10mL ( Available)

Dry dispersion

Dry-turbulence dispersion patent, normal shock wave shear technique

Feeding Speed

Adjustable (Variable speed knob)

Operation Mode

Full automatic

/ manual control, freely choose

Dispersion medium

Compressed Air, pressure: 0 to 6 bar

Optical bench alignment system

Full automatic,

precision is up to 0.

2

um

Tes

t

Speed

per time

Wet: <2 Min Dry :

<

1

min

Typical measuring time<10S

Outer dimension

L

104

c

m×

W44c

m×

H5

4

cm

Net

Weight

70

Kg
Main Features:
1)
Wet and dry
sample dispersion system
Integrated Design
Winner2308 intelligent laser particle size analyzer which is 1st set laser particle size analyzer
integrated wet and dry dispersion test in one in China
, it
successfully resolved the problem of dry and wet technology integration, realize one key to switch, apply to test all the particle size distribution of powders, emulsion and suspension.
2)
Intelligent
full automatic
operation syste
m and manual operation mode
,
freely choose.
With intelligent automatic mode of operation, to achieve a key test, as long as according to the prompt addition of sample, click the "test",
all process will be complete automatically,
not only reduce the testing workload, but also eliminate the interference of human factors, to further improve the accuracy and authenticity of testing results
.
Wet method: A key to complete
water-supply,
ultrasonic
dispersion, circulation, testing, cleaning, data record, data analysis, save and print are automatically completed
, only take 2 mins.
Dry method: A key to complete the dust collecting, air supply, feeding, testing, data processing and other operation, take 1 min.
3) Stable and unique optical path system
patent
ed
technology
Converging light Fourier transform
path system
, enables scattering light be not restricted to the lens aperture limit, and Dual-laser orthogonal light
technology
make use of the semiconductor auxiliary laser extend the test angle from
0.015
degree to 1
4
5 degree, ensure receive all the angles of signals
.
4)
Automatic
Optical
path
alignment
System
,
The precision of four hybrid stepping motor in the automatic system of optical components, micro precision of 0.
1
um, the instrument of light path is always at its best to eliminate manually on the light path and the troubles and difficulties but also enhance the accuracy and stability of test results.
5)
Full built-in
Sample
dispersion system.
Auto wet dispersion system,SOP realize one key operation.
set mechanical stirring, ultrasonic dispersion, and circulation path in one, It ensures particles uniform dispersion and distribution,avoids many bad phenomenon, such as uneven distribution of particles, large particles deposit because of the long outer dispersing system tube, And it guarantees the representativeness of test result.
For dry dispersion system,
Turbulence dispersion patented technology and Normal shock shearing effect, make particles sufficient dispersion
,ensure good test.
6)Instrument Software
Original Unconstrained
f
ree
f
itting
patent
technology
collect scattering data during the measurement process,
make particle analysis
not be restricted by any functions, truly reflect particles
size
distribution
,
The instrument provide high precision data with
10Khz data acquisition time
.
Adopt
u
nconstrained free fitting patent
technology
collect scattering data during the measurement process,
make particle analysis not be restricted by any functions, truly reflect particles distribution.
Software Function:
1, Analysis Mode
Free Distribution, R-R Distribution, Logarithm Normal Distribution, Mesh number classification etc. meet different demands of particle size statistic in different industries.
2,Statistic Method
Volume Distribution, Quantity Distribution
3,Statistic Comparison
Statistic Several Testing Results to compare and analyze
Get difference by compare test result of different batches of samples, samples before and after processing, and different time.
Have great practical significance to industrial raw materials quality control
4,User-defined Analysis
Figure out percentage according to the particle size
Figure out particle size according to the percentage
Figure out percentage according to the particle size range
Meet demands of representation of particle test in different industries.
5,Test Report
Word, Excel,Photo( Bmp), Text etc.
6,Multi
ple
language Support
Chinese&English (Others are available)
7,Intelligent Operation Mode
Automatically control water inflow, dispersion,test and analysis.
Better Repeatability after remove human-factor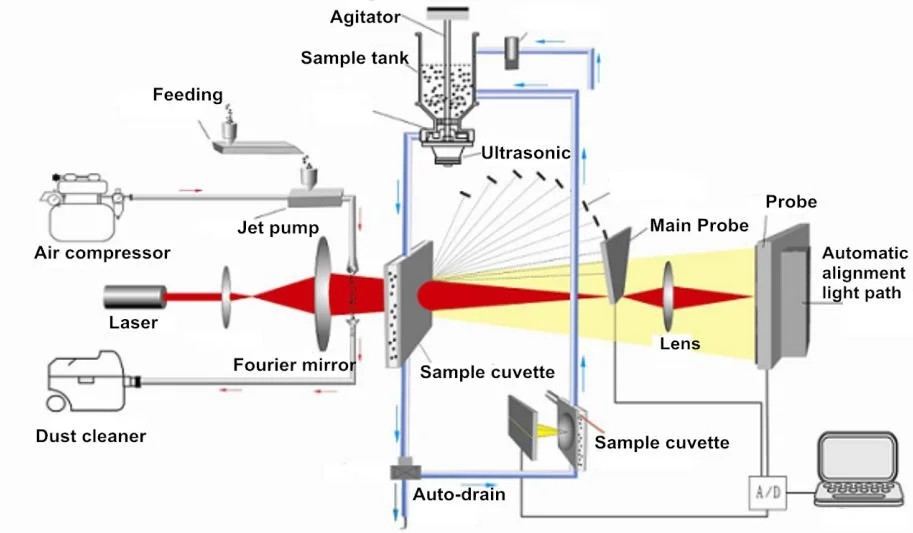 Figure-Winner2308 laser particle size analyzer scheme
Application:
Winner2308 widely used in cement, ceramics, medicines, lotions, paints, dyes, pigments, fillers, chemicals, catalysts, drilling mud, abrasives, lubricants, coal, sediment, dust, cells, bacteria, food additives, pesticides, explosives, graphite, photographic materials, fuel, ink, metal and non-metal powder, calcium carbonate, kaolin, coal slurry and other powdered materials.
Adopt Patents Technology:
Optical bench design is protected by patent No.- ZL 2014 2 0378380.8,

Three

dimensional-optical bench alignment system is protected by patent No.- ZL 2013 2 0835882.4.

MIE

scattering principle application patent No.- ZL 2013 2 0812021.4.

Dry particle size analyzer full sealed sample cuvette application is protected by patent No.- ZL.2011 2 0267646.8.

Dual laser beam orthogonal application is protected by patent No.-ZL 2007 2 0025702.0

Powder dispersion pump design application is protected by patent No.-ZL 2007 2 0018648.7

Wet circulation installation is protected by patent No.-ZL2010 2 0593526.2
Service
Quality Assurance For Laser Particle Size Analyzer
1. Strictly conforming to ISO9001-2000 quality management system,
2. Strict control from purchasing materials, process inspection to final particle size distribution test,
3. QC department to execute quality control regulations,
4.Only qualified components will be assembled and total laser particle size analyzer must be inspected completely before sale.
5, Laser particle size analyzer will be processed preventing -shake test before delivery.
After sale service
1. We will send our technician to install the laser particle size analyzer if customer need.( operation demo video CD will be offered also.)
2. Offer free-training service.
3. The quality assurance date is 1 year since finishing payment, Technology support in all a life. And after that, we will collect the cost if provide repair accessories.
4. Maintenance for equipment failure caused by improper handling (appropriate cost will be collected).
5. We offer the components with favorable price and perdurable maintenance.
Packaging&Shipping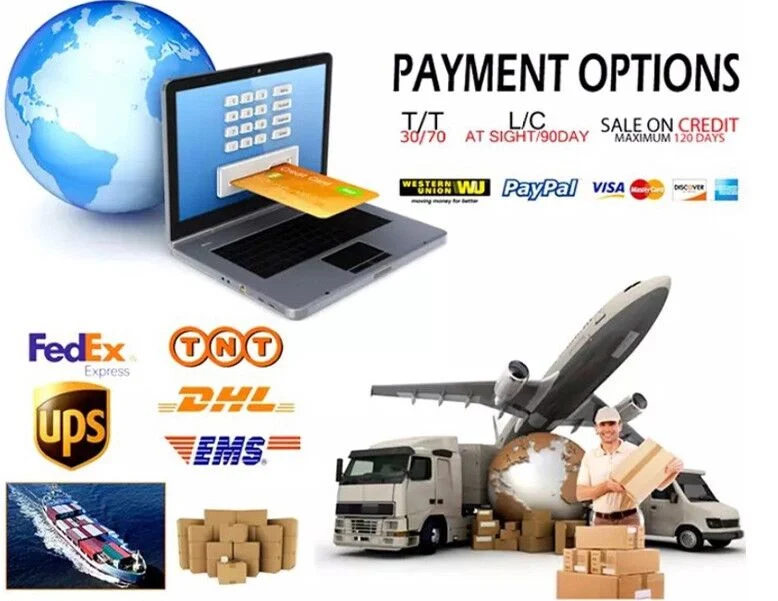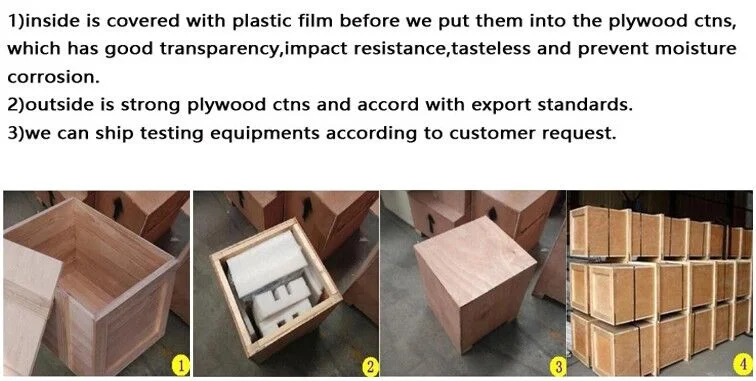 Certificates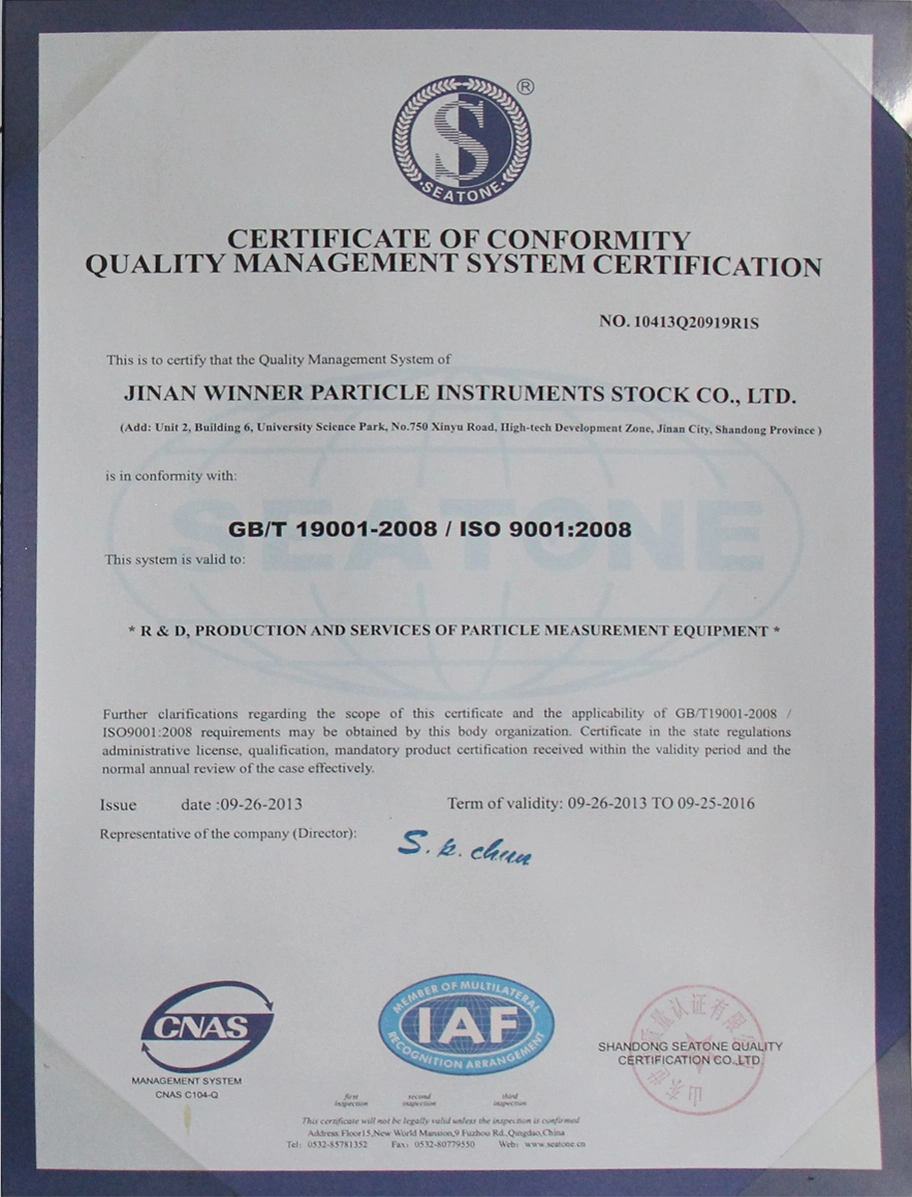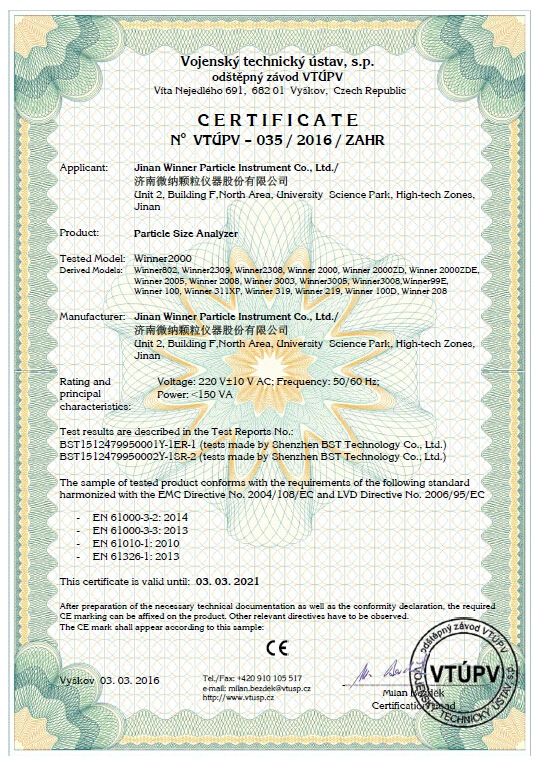 Comany Information: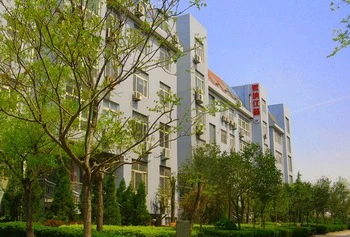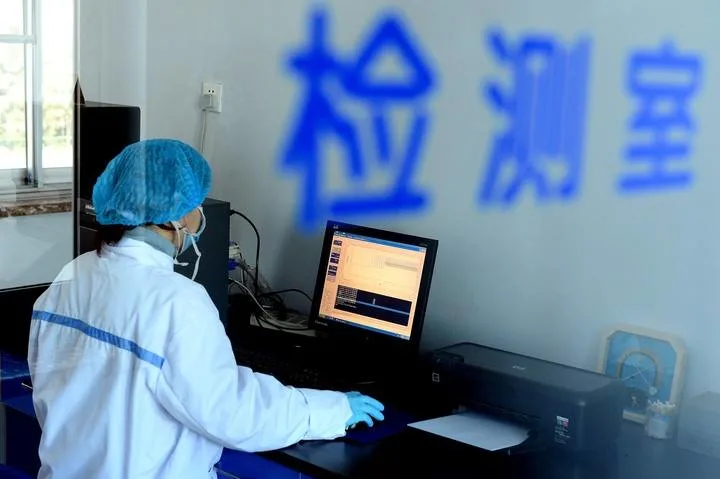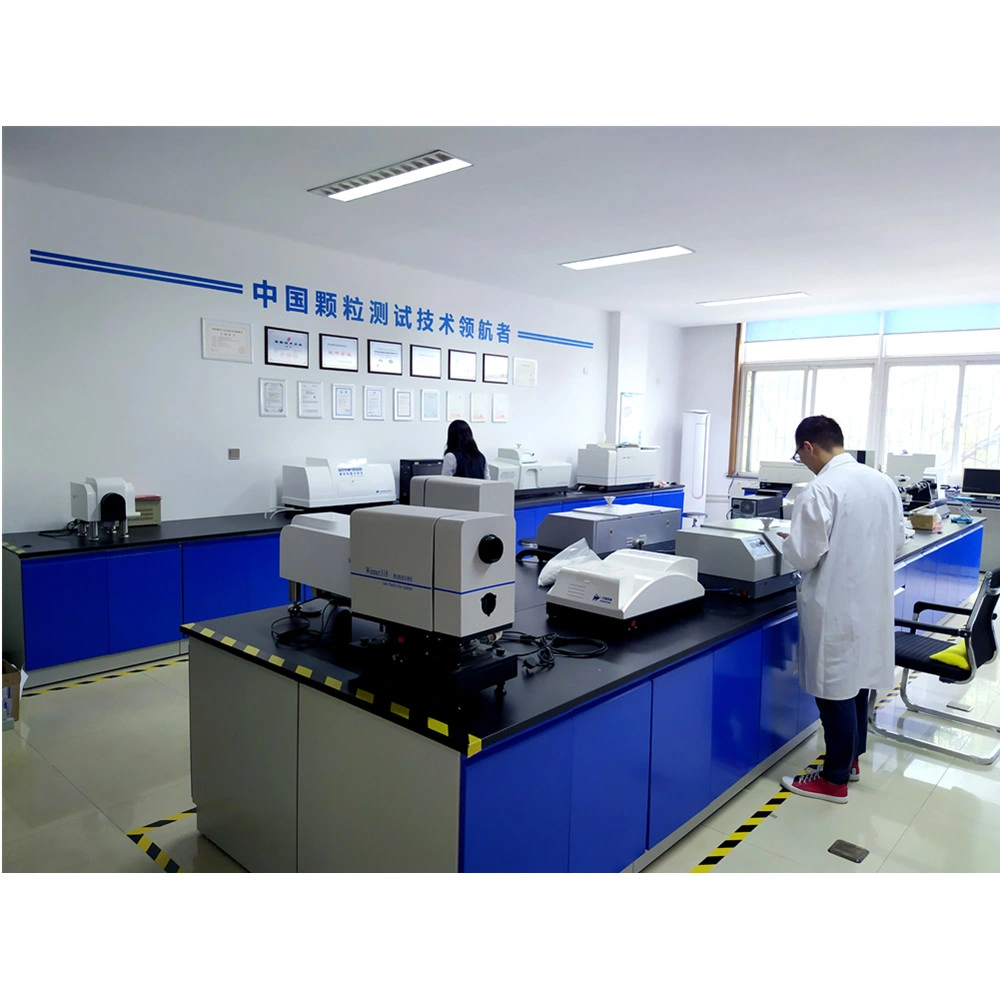 Winner Particle Instrument Stock Co.,Ltd. have been specialized in laser particle size analyzer since 1985, as the leading manufacturer in China, winner undertake the national science and technology project for many times, get more than 30 patents technology, Strongly recommended by 500 Universities in China!
1st Circulation test wet particle size analyzer
1st Dry particle size analyzer
1st Dynamic particle image instrument
1st Nano particle size analyzer
1st Image laser particle size analyzer
1st Inline particle size analyzer
Our goal is to provide super quality and competitive price laser particle size analyzer for clients all over the world!
We created more than 10 first particle size analysis technology in China!

Exhibitions




Our customers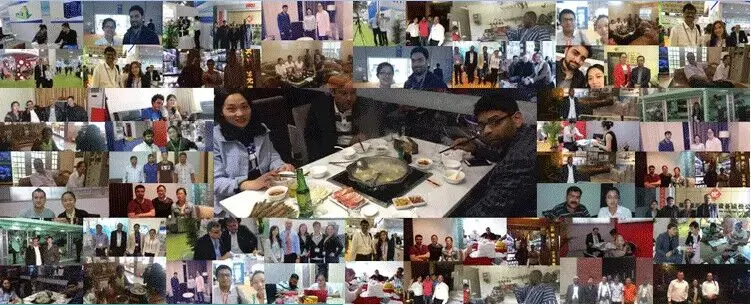 FAQ
Purchase laser particle size analyzer need know points:
1) What materials need test?
If suspension/emulsion, must choose liquid dispersion particle size analyzer, and some materials are also reacted with water, so need liquid dispersion particle size analyzer also.
Generally, cement, metal powders and pharamcy materials need dry dispersion model particle size analzyer.
2) What size range need test?
By now, Based on MIE scattering, laser particle size analyzer can test the particle range is 0.01um-2000um.
If materials range is not so wide, for example, 10um-20um, smaller range of particle size distributon choose closer range model will be preciser, no need to buy large range model.
3) What is dispersion media?
For liquid model, in order that sample can disperse well and circualte in the laser particle size analyzer, generally we need use water, alochol or organic solvent as dispersion media.
For dry dispersion model, just use compressed air as dispersion media.
In the current market, Dry laser particle size analyzer cost is higher than liquid dispersion models, so if can test well, liquid model is better.
More questions, please contact us, we will offer you the best suitable laser particle size analyzer for you!