1. Application of powder machine:

powder machine is used for grinding the material below scale 6 of mohs hardness and 250-odd sorts of non-inflammable and non-explosive stuff in the trades of mining, metallurgical industrial, chemical engineering and building material for high fine powder generation and processing, such as talcum, barite, marble, limestone, charcoal blacks.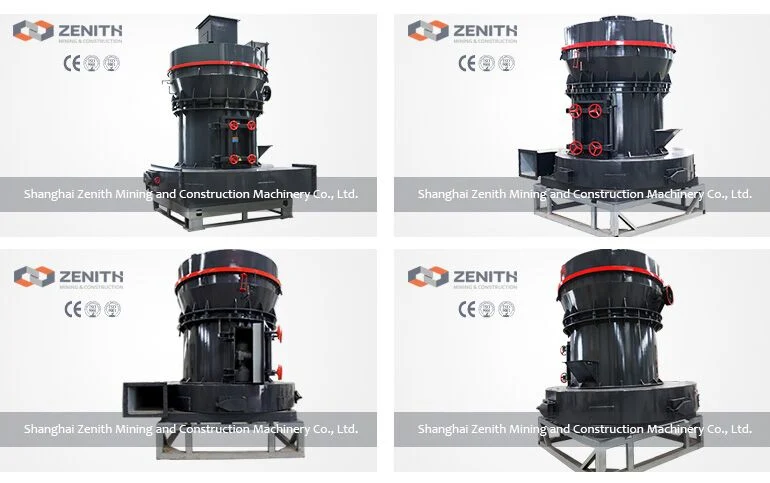 2. Structure of powder machine:

Powder machine combination of the mainframe, separator, blower, finished powder cyclone collector, bag filter and connecting pipes, electric control cabinet, make the production of the powder environmentally friendly.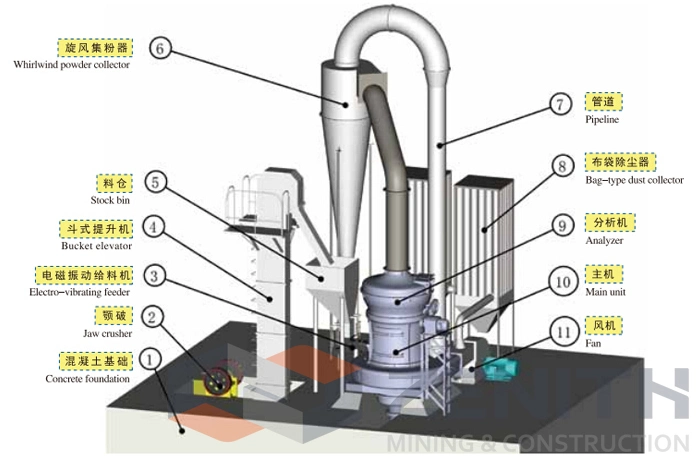 3. Features of powder machine

1. Wide application scope,can use to crush materials less than 6 moth of hardness.
2. Under the effect of high pressure spring, the fineness of final product is increased greatly.
3. Compared with Jet Milling, the energy consumption is lower.
4. Less investment, high efficiency, recycling fast
5. Independent system, less Production links, materials less than 25mm can be put into processing directly.
6. No pollution, dedusting effect is completely meet national standards.
7. The sealing effect of grinding roller device is good.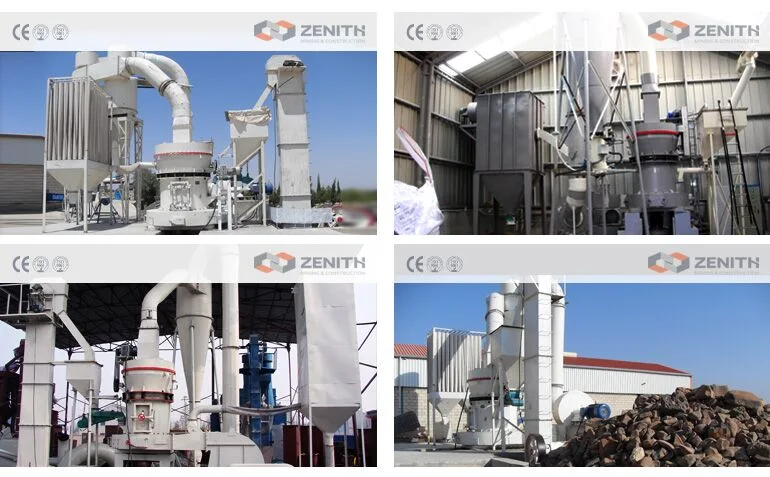 Powder Machine technical data:
Name
MTM100
MTM130
MTM160
Ring roll number(pcs)
4
5
6
Major diameter of roller(mm)
310X170
410X210
440X270
Inner diameter of roller(mm)
950X170
1280X210
1600X270
Revolving Speed(rmin)
130
103
82
Max feed size(mm)
<25
<30
<35
Final size(mm)
1.6-0.045
fineness can reach to 0.038
1.6-0.045
fineness can reach to 0.038
1.6-0.045
fineness can reach to 0.038
Output(th)
3-8
6-11
9-22
Complete physical size(mm)
7100×5900×7900
9200×7250×9700
12550×5700×8355
Main unit motor
Model
Y225S-4
Y280S-4
Y315M-4
Power(kw)
37
75
132
Rotate speed(rmin)
1480
1480
1480
Centrifugal induced draft fan motor
Model
Y225S-4
Y280S-4
Y315M-4
Power(kw)
37
75
132
Rotate speed(rmin)
1480
1480
1480
Classifier speed regulating motor
Model
YCT200-4A
YCT200-4B
YCT250-4A
Power(kw)
5.5
7.5
18.5
Rotate speed(rmin)
125-1250
125-1250
132-1320
Elevator
Elevator model
TH210
TH210
TH315
Motor model
Y100L2-4
Y100L2-4
Y112M-4
Power(kw)
3
3
4
Rotate speed(rmin)
1430
1430
1440
Jaw Crusher
Jaw Crusher Model
PE200×350
PE250×400
PE250×750
Main unit motor
Y160M-6
Y180L-6
Y200L2-6
Power(kw)
7.5
15
22
Rotate speed(rmin)
970
970
970
Magnetic vibrating feeder
Main unit motor
GZ2F
GZ3F
GZ3F
Power(kw)
0.15
0.2
0.2