Daopulse 20KVA Low Frequency 3/3 Phase Working Principle Of UPS

Main Features
·
Double conversion topology technology, p
ure sine wave output.
·
Advanced DSP digital control technology.
·
Environmental Friendly and energy saving, as the ≤2% R load; ≤5% RCD load
·
Wide input voltage and frequency range,400VAC(three phase with ground) ,50/60Hz±10%
·
0ms Line-Bat transfer , ensure the safety and reliablity of load.
·
ECO mode optional, reduce the UPS power consumption.
Product Details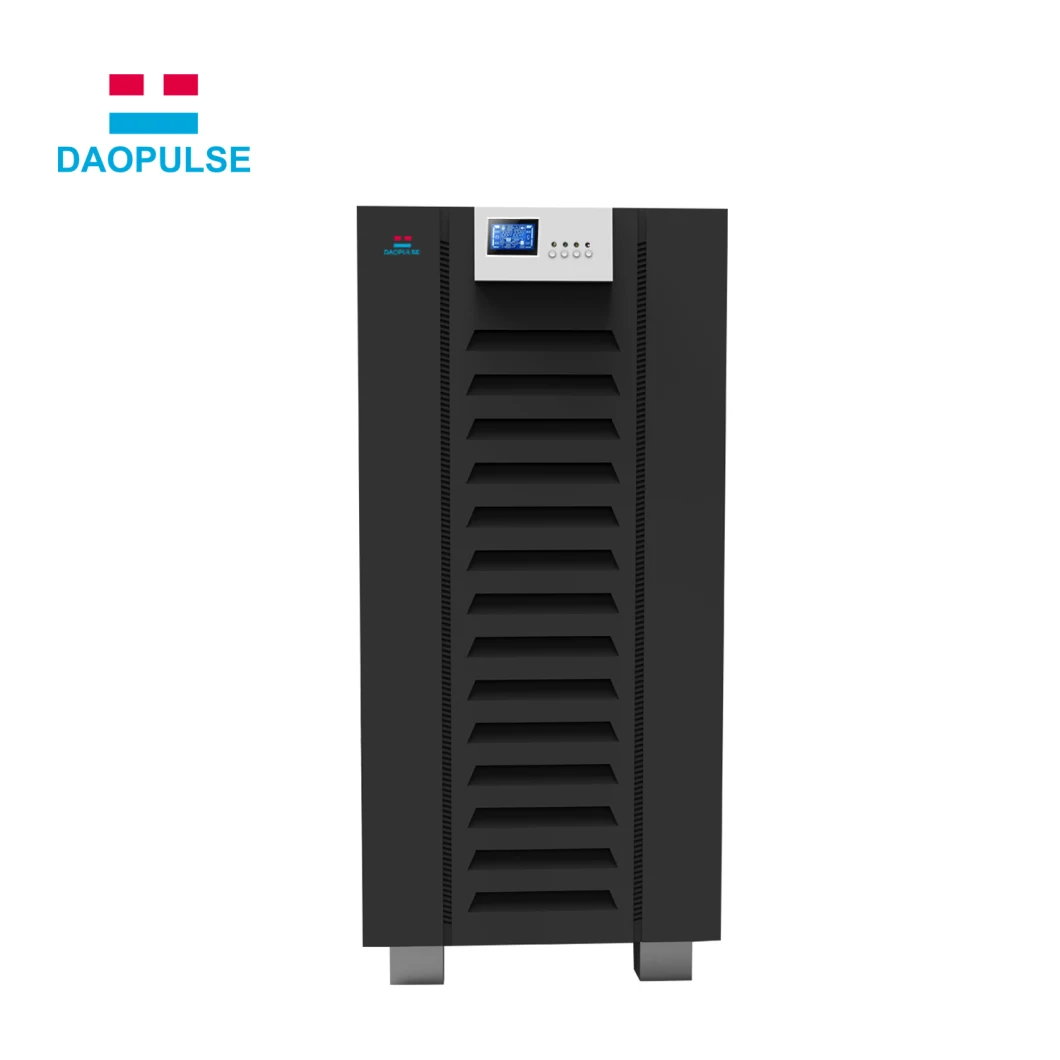 Specfictations
Model

10K

15K

20K

30K

40K

60K

Phase

Three phase in--Three phase out

Input

Rate capacity

10KVA/8KW

15KVA/12KW

20KVA/16KW

30KVA/24KW

40KVA/32KW

60KVA/48KW

Rate voltage

400VAC(three phase with ground)

Turn on voltage

285-485VAC(three phase)

Frequency range

50/60Hz±10%

Output

Voltage

380/400/415VAC(three phase) ±1%

Frequency

Line mode 46~54Hz or 56~64Hz follow;BAT mode 50Hz or 60Hz

Harmonic

≤2% R load; ≤5% RCD load

Crest ration

3:01

Transfer

0ms

Over load

100%~150%:1min;load>150%:200ms; (transfer to bypass and alarm)

Voltage unbalance

≤1%

Efficiency

Line mode

> 89%

> 90%

> 91%

BAT mode

> 90%

> 91%

> 92%

BAT

Number

29~32(adjustable)

Charge voltage

+/-13.7VDC×BAT No.

Charge current

Default 10A,max 40A

Size

(

length*width*height

)

and weight

Size (mm)

656*405*817

656*405*941

821*432*1159

Weight (kg)

118

120

145

193

278

365

Environment

Temperature / humidity

0ºC~40ºC;20%~95%

Communication

RS-232/USB/SNMP card