Products Introduction:
ZK series of new ore pellet mill is Zheng machine for the domestic ceramic industry technology upgrading is an urgent need, collaborative innovation through research and development of new granulators, fully meet the requirements of clean and efficient production of a variety of ceramic. Achieved good results in practical applications, has been unanimously praised by users.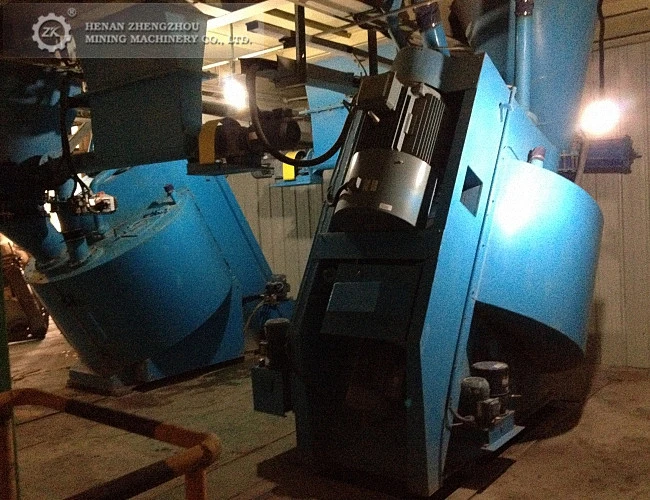 Features:
(1) feeding - mixing - nucleation - granulation - shaping the whole process of computer-controlled, high degree of automation;
(2) granulation principle advanced, in situ mixing, granulating, short process, high efficiency;
(3) production system fully enclosed, dust pollution, low noise;
(4) a short process, equipment, small footprint, saving the plant area;
(5) working noise is less than 60dB.
Structures:
ZK series of new pellet mill from the main hopper, reversible spiral, the main measure positions and auxiliary measurement positions, constant dosing tank, powder recycling processor, fan, granulating host and complete control system.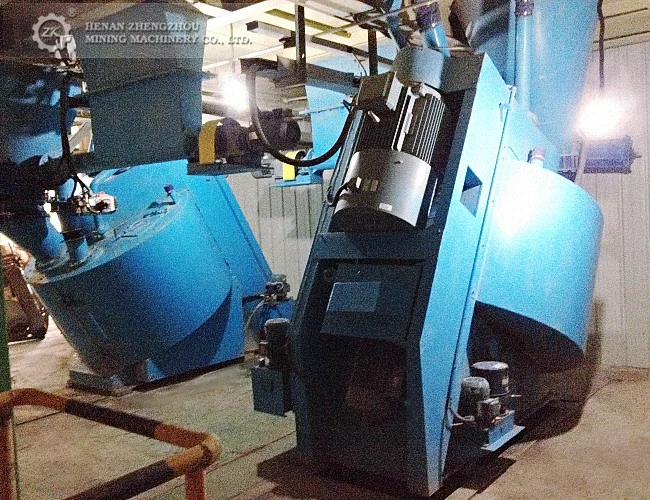 How it works:
Operation of the system starting from the computer control panel, automatic start system lubrication device, open the dust blower, start granulators, the main silo began to reversible cutting spiral, assigned by the reversible screw to the main and auxiliary measurement position measurement positions, the main measure warehouse material into the granulation host materials with high speed rotor movement together; Hosts added to the granulation tank is measured by the constant provision of water, so that the material gradually formed in the granulator ball nuclear, nuclear fully formed after the ball, and auxiliary measurement positions to the provisions of the material, so that the ball nucleation and growth, until the required particle size, supplemented plus polishing materials, unloading belt conveyor to the bottom of the pellet mill finished smooth surface and transported to the next process, the completion of a granulation cycle.
Major equipment:
ZKZL (T) oil fracturing proppant granulation testing machine
Jaw Crusher
LS screw conveyor
HL type bucket elevator
GX screw conveyor
D-type bucket elevator
DT II fixed belt
Ceramic sand granulators
The new ZK series granulators
Ceramic sand rotary kiln
Monocular cooling machine
Rotary dryer
Air box pulse bag filter
Company Name: Henan Zhengzhou Mining Machinery Co., Ltd.
Official Website: http://hnzkjq.en.made-in-china.com/ & http://hnzkjq.en.made-in-china.com/
24-hour Free Sales Consulting Phone: 86-18937185591.
Company Address: Qiaolou caizhai industrial estate, Xingyang city, Henan Province
Please pay attention to the company's other products:
Price of rotary kiln: http://hnzkjq.en.made-in-china.com
Rotary Kiln: http://hnzkjq.en.made-in-china.com
Preheater: http://hnzkjq.en.made-in-china.com
Cement Mill: http://hnzkjq.en.made-in-china.com
Rotary Dryer: http://hnzkjq.en.made-in-china.com
Raw Mill: http://hnzkjq.en.made-in-china.com
Ball Mill: http://hnzkjq.en.made-in-china.com
| | | | | | |
| --- | --- | --- | --- | --- | --- |
| Model | Diameter(mm) | Capacity(t/h) | Revolutions(r/min) | Power(kW) | Weight(kg) |
| ZK-17 | 1700 | 12 | 13.8 | 18.5 | 3700 |
| ZK-22 | 2200 | 13 | 13.8 | 22 | 4200 |
| ZK-30 | 3000 | 24 | 11.3 | 45 | 8800 |
| ZK-32 | 32000 | 25 | 10.3 | 55 | 10500 |
| ZK-35 | 35000 | 27 | 9.8 | 75 | 13200 |