Vertical bead mill is mainly used in the production and grinding of coating, pigment, chemical industry and other industries. The vertical bead mill has the advantages of high grinding efficiency and high product fineness, and its low equipment cost is the first choice of customers. Different models can be selected according to different materials and characteristics.
The vertical bead mill is used in ultra-fine grinding for various types of kaolin, calcium carbonate, graphite, barium sulfate, illite, bentonite, wollastonite, sericite and other materials, After stripping, above materials can be used as functional filling .for paper coatings, paints, printing ink, rubber, plastics etc.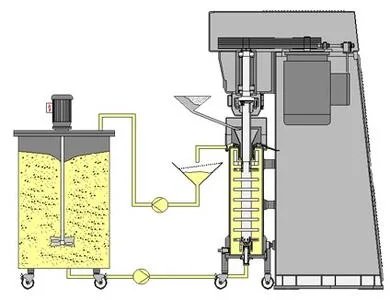 There are 8-16 pieces of high-strength grinding dispersion discs in the grinding drum of vertical bead mill. The feeding system of the vertical bead mill relies on diaphragm pump or gear pump for feeding. The feeding speed is controlled by the air pressure above the pump. The lower part of the grinding drum is sent up and down into the grinding drum. The grinding medium will move downward due to gravity, so that the raw materials flow up and down in the grinding drum with pressure, and the raw materials are in the gap between grinding medium. Emulsification and grinding are produced under the action of pressure and high-speed rotation. The vertical bead mill is mainly composed of body, grinding cylinder, disperser, bottom valve, motor and feed pump etc.

Features of vertical bead mill
1.High efficiency, low energy consumption and small floor area.
2.Low noise, large capacity, no pollution, continuous operation.
3.The fineness of the product can reach 0.5-2 micrometer.
4.
Grinding media with particle size of 0.1-2 mm can be used.
Specification of vertical bead mill
| | | | | | |
| --- | --- | --- | --- | --- | --- |
| Model | BP-80 | BP-300 | BP-500 | BP-1000 | BP-2000 |
| Main power(Kw) | 30 | 75 | 132 | 160 | 200 |
| Charmber volume(L) | 80 | 300 | 500 | 1000 | 2000 |
| Rotary speed (rpm) | 820 | 640 | 480 | 400 | 320 |
| Dimension(mm) | 1400x1300x2820 | 2420x1320x3480 | 2820x1520x4180 | 3100x1720x488 | 3450x2020x5650 |